Prep: 20 min
Makes 11 mini truffles
Truffles
1/2 cup almonds
1/2 cup brazil nuts
1/2 cup desiccated coconut
1/4 cup sour cherries
1/4 cup raisins
1/4 cup dried apricots
1/4 cup dates
2 dried figs (stalks cut off, quartered)
Zest of 1 orange
2 tsp cinnamon
1 tsp ginger powder
1/2 tsp vanilla bean powder
1/2 tsp mixed spice
1/2 tsp turmeric
Pinch clove powder (optional)
Large pinch sea salt
Chocolate Coating (OR 1 block dark chocolate melted, 80-100g)
1/4 c cacao butter (melted)
2 tsp liquid sweetener (coconut nectar, brown rice malt syrup or yacon syrup)
1/4 tsp vanilla bean powder
Pinch sea salt
Topping
Blend all ingredients in a food processor until they stick together when pressed, but still have a little bit of texture. Roll into teaspoon-sized balls with wet hands so the mixture doesn't stick to your fingers, then put in the freezer to set.
Melt cacao butter and mix with the rest of the chocolate ingredients in a bowl until smooth. Dip truffles into the chocolate with two teaspoons and place in mini muffin tins to set (not 100% necessary, but helps to keep any errant chocolate in a nice concentric circle). Sprinkle with bee pollen and spirulina if desired, then put in the freezer for at least an hour to set.
Notes
If you're short on time, or chocolate topping ingredients, you can substitute this for a melted bar of good quality dark chocolate.
To make these nut free, simply replace the nuts with a blend of sesame seeds, pumpkin seeds, sunflower seeds or watermelon seeds - or whatever you have to hand.
You can use whatever dried fruit you have in the pantry too - a combination of cranberries, prunes and sultanas would also be lovely in this recipe.
Likewise, if you don't have all these spices available, just use whatever you have. As long as there's some cinnamon, vanilla, ginger, and a touch of mixed spice/clove/turmeric, they'll taste like Christmas.
Another festive idea for toppings which some readers have tried is to sprinkle with desiccated coconut too - like snow flakes!
These truffles are only very mildly spiced (to keep everyone happy), but if you prefer more zing you could easily double the spice quantities for an extra zesty truffle experience. My suggestion - blend using the above measures first, then add extra if you desire!
Any leftover melted chocolate, pour and spread thinly onto a baking tray, sprinkle with more festive toppings (any of the dried fruits/nuts in the recipe), and place in the freezer to set.
Once set break into shards and store in the fridge, for a delicious Christmas chocolate bark!
These can be stored in the freezer for up to 2 months - I love them straight from the freezer so they're extra firm and chewy.
---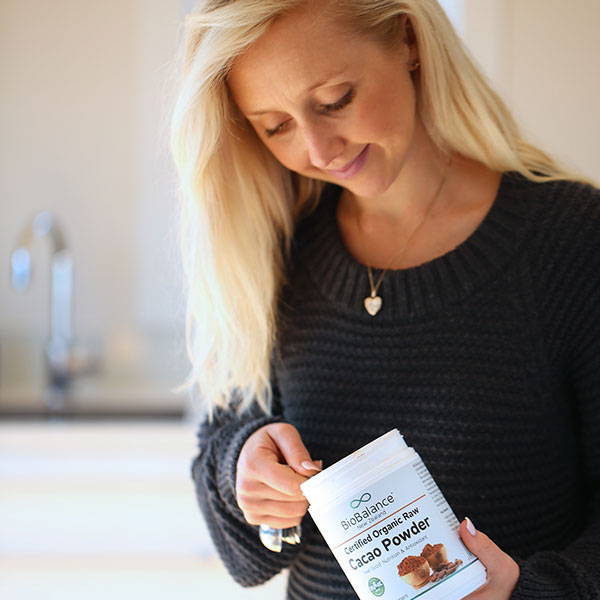 Buffy Ellen is the founder of Be Good Organics, a plant-based wholefoods blog, store and community.
@begoodorganics #begoodorganics
---